---
Produktdetails
XXIV, 434 Seiten,
14,4 x 21 cm
, kartoniert
ISBN
978-3-503-06072-6
Erscheinungstermin
voraussichtlich im Januar 2002
Programmbereich
Reihe / Gesamtwerk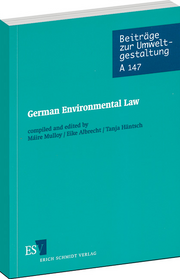 Dieses Produkt ist leider nicht mehr lieferbar.
The idea of German Environmental Law in English is to be just that: a handy-sized, up-to-date, English-language-version of the legislation for the protection of the enviromental currently in force in Germany. Its main objective is to make this body of law accessible to non-German speakers, students and professionals alike. The collection comprises the principal laws addressing the protection of the enviromental media air, soil and water, and of natural landscapes and habitals with their flora and fauna, as well as laws of a more general scope, e.g. those regulating liability in cases of harmful impacts on the environment, or providing for public access to relevant data in such cases. (Legal status 2002).
Als Nettopreise angegebene Preise verstehen sich zuzüglich Umsatzsteuer. Alle Nettopreise, also auch die Monatspreise, wurden aus den Bruttopreisen errechnet. Daher kann es wegen Rundungsungenauigkeiten bei einer Rückrechnung zu Abweichungen um wenige Cent kommen.
---


© 2017 Erich Schmidt Verlag GmbH & Co. KG, Genthiner Straße 30 G, 10785 Berlin
Telefon (030) 25 00 85-0 | Telefax (030) 25 00 85-305 | E-Mail: ESV@ESVmedien.de