Buch
Productivity in Tourism
Fundamentals and Concepts for Achieving Growth and Competitiveness
---
Produktdetails
VI, 252 Seiten,
15,8 x 23,5 cm
, kartoniert
Lieferzeit
Die Ware ist binnen fünf Tagen lieferbar.
Zahlungsweise
Rechnung, Kreditkarte (VISA, MasterCard, American Express), SEPA-Lastschrift
Externe Links
ISBN
978-3-503-10343-0
Erscheinungstermin
09. Juli 2007
Programmbereich
Reihe / Gesamtwerk
Downloads
Titel empfehlen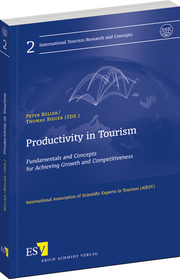 ---
* inkl. USt.,

ohne Versandkosten
Titel in den Warenkorb
In tourism business productivity is decisive for competitiveness and growth. But there is a high uncertainty how to increase productivity without loss of quality and cost increases. This book, edited by Peter Keller and Thomas Bieger, provides an integrated analytical framework for understanding and improving productivity in tourism. Issues in the book are the labour productivity problem, trade-off between quality and productivity, information and communication technology, optimal firm size and cooperation and the role of government. The work contains highly qualified contributions from 32 leading researchers from 10 countries. They are empirically founded with a background of many practical cases. You will find fundamental insights, which drive to new solutions in business and new research in the field.
---
Edited by Prof. Dr.
Peter Keller
and Prof. Dr.
Thomas Bieger
With Contributions by Dr.
Pietro Beritelli
, Prof. Dr.
Thomas Bieger
, Dr.
Arlette Bouzon
, Prof. Dr.
Juan G. Brida
,
Silvia Canali
, Prof. Dr.
Evangelos Christou
, Prof. Dr.
Emilio Colombo
,
Valeria Croce
, Dr.
Joelle Devillard
, Prof. Dr.
Matthias Fuchs
,
Petra Gatti
, Prof. Dr.
Frank M. Go
, Prof. Dr.
Christine A. Hope
,
Colin Johnson
, Prof. Dr.
Peter Keller
,
Damir Krešiæ
, Prof. Dr.
Christian Laesser
,
Günther Lehar
, Prof. Dr.
Andrea Macchiavelli
, Prof. Dr.
Rico Maggi
,
Ted Martens
, Prof. Dr.
Tanja Mihaliè
,
Alexander Raffeiner
,
Thomas Riklin
, Dr.
Ruggero Sainaghi
,
Miriam Scaglione
,
Stefan F. Schubert
, Prof. Dr.
Hubert Siller
, Prof. Dr.
Egon Smeral
, Prof. Dr.
Tim Tyrrell
, Dr.
Erik van 't Klooster
, Dr.
Blaženka Vrdoljak-Šalamon
, Prof. Dr.
Klaus Weiermair
, Dr.
Anita Zehrer
Als Nettopreise angegebene Preise verstehen sich zuzüglich Umsatzsteuer. Alle Nettopreise, also auch die Monatspreise, wurden aus den Bruttopreisen errechnet. Daher kann es wegen Rundungsungenauigkeiten bei einer Rückrechnung zu Abweichungen um wenige Cent kommen.
---


© 2017 Erich Schmidt Verlag GmbH & Co. KG, Genthiner Straße 30 G, 10785 Berlin
Telefon (030) 25 00 85-0 | Telefax (030) 25 00 85-305 | E-Mail: ESV@ESVmedien.de