---
Produktdetails
195 Seiten, mit zahlreichen Fallstudien,
15,8 x 23,5 cm
, kartoniert
ISBN
978-3-503-11611-9
Erscheinungstermin
voraussichtlich im März 2010
Programmbereich
Downloads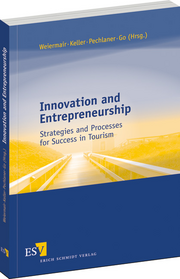 Dieser Titel ist z.ZT. nur als eBook lieferbar.
eBook:

EUR (D) 39,98**
---
PDF-Datei
Voraussetzungen: Internetzugang, Web-Browser, Adobe Reader
** inkl. USt.
Titel als eBook kaufen
Tourism demand is becoming very volatile. To survive entrepreneurs have to continuously adapt to changes, improve services, create new products and break into new markets. In short: They have to be innovative.This volume provides you a unique inside view of innovative entrepreneurs in tourism who had the foresight to transform their practices in the tourism industry in an almost revolutionary fashion, e. g.: G.A.P. Adventures, Canada; Touring Cars Finland LTD, Finland; Joska Kristall, Germany; the Sextantio Albergo Diffuso, Italy and the Spas of Salt Mine Bochnia, Poland.These stories of innovation and entrepreneurship in tourism from 13 countries exemplify the key factors for introducing new tourism products and processes successfully.
---
Edited by Prof. Dr.
Klaus Weiermair
, Prof. Dr.
Peter Keller
, Prof. Dr.
Harald Pechlaner
, Prof. Dr.
Frank M. Go
With contributions by
Werner Bernet
,
Valérie Brive
, Prof.
Eileen Fischer
, Dr.
Elisabeth Fischer
, Prof. Dr.
William Gartner
, Prof. Dr.
Frank M. Go
,
Grzegorz Golembski
,
Ronald Israels
, Prof. Dr.
Peter Keller
, Dr.
Christopher Kronenberg
, Dr.
Paul Lynch
,
Samir Markarem
, Prof.
Alison Morrison
,
Marcin Olszewski
, Prof.
Paola Paniccia
,
Maria Razumova
,
Christopher Reuter
,
Bartolomé Deyá Tortella
,
Luiz Gonzaga Godoi Trigo
,
Marco Valeri
, Prof. Dr.
Francois Vellas
, Prof. Dr.
Klaus Weiermair
, Dr.
Anita Zehrer
Als Nettopreise angegebene Preise verstehen sich zuzüglich Umsatzsteuer. Alle Nettopreise, also auch die Monatspreise, wurden aus den Bruttopreisen errechnet. Daher kann es wegen Rundungsungenauigkeiten bei einer Rückrechnung zu Abweichungen um wenige Cent kommen.
---


© 2019 Erich Schmidt Verlag GmbH & Co. KG, Genthiner Straße 30 G, 10785 Berlin
Telefon (030) 25 00 85-0 | Telefax (030) 25 00 85-305 | E-Mail: ESV@ESVmedien.de