Buch
New Challenges for Tourism Promotion
Tackling High Competition and Multimedia Changes
---
Produktdetails
XII, 175 Seiten, mit zahlreichen Abbildungen und Tabellen,
15,8 x 23,5 cm
, kartoniert
Lieferzeit
Sofort lieferbar
Zahlungsweise
Rechnung, Kreditkarte (VISA, MasterCard, American Express), SEPA-Lastschrift
Externe Links
ISBN
978-3-503-13838-8
Erscheinungstermin
31. Januar 2012
Programmbereich
Reihe / Gesamtwerk
Downloads
Titel empfehlen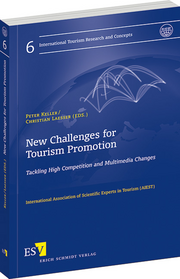 ---
* inkl. USt.,

ohne Versandkosten
Titel in den Warenkorb
eBook:

EUR (D) 29,99**
---
PDF-Datei
Voraussetzungen: Internetzugang, Web-Browser, Adobe Reader
** inkl. USt.
Titel als eBook kaufen
Increased competition, the ongoing differentiation process of potential visitors` needs and the irreversible development to a multimedia information and communication society are tremendous challenges for institutions which aim to attract and keep loyal visitors.

In this book, AIEST's experts put forward new ideas on how to rise to some of the most intriguing and urgent questions of modern tourism promotion.

- Macroeconomic Impacts: how to face and deal with growing markets, increased global competition or differentiation effects in mature market environments.

- Tourism Promotion and Marketing Processes: how more research on the "hybrid traveler" and the focus on cooperation can lead to better understanding and management.

- Social Media and Web 2.0: how attention can be arrested even when information is abundant and consumers gain more and more sovereignty.

- Technological Progress: how to benefit more effectively from recent developments such as the digitalization of promotional tools (E-Promotion).

Contributions from both practice and academia give comprehensive and holistic impressions of viable solutions!
---
Edited by Prof. Dr.
Peter Keller
and Prof. Dr.
Christian Laesser
With Contributions by Dr.
Wineaster Anderson
,
David Caliesch
,
Michel Ferla
, Dr.
Alexandra Jiricka
, Prof. Dr.
Peter Keller
,
Katarzyna Klimek
, Dr.
Martinette Kruger
, Prof. Dr.
Christian Laesser
, Dr.
Andreas Liebrich
, Prof. Dr.
Barbara Marciszewska
,
Krzysztof Marciszewski
,
Rafael Matos-Wasem
, Dr.
Andrea Nemes
, Dr.
Ulrike Pröbstl
, Prof. Dr.
Melville Saayman
,
Boris Salak
Dr.
Miriam Scaglione
,
Roland Schegg
, Prof. Dr.
Egon Smeral
, Dr.
Petra Stolba
, Dr.
Serena Volo
, Dr.
Veronika Wirth
Als Nettopreise angegebene Preise verstehen sich zuzüglich Umsatzsteuer. Alle Nettopreise, also auch die Monatspreise, wurden aus den Bruttopreisen errechnet. Daher kann es wegen Rundungsungenauigkeiten bei einer Rückrechnung zu Abweichungen um wenige Cent kommen.
---


© 2019 Erich Schmidt Verlag GmbH & Co. KG, Genthiner Straße 30 G, 10785 Berlin
Telefon (030) 25 00 85-0 | Telefax (030) 25 00 85-305 | E-Mail: ESV@ESVmedien.de