Buch
Changing Paradigms in Sustainable Mountain Tourism Research
Problems and Perspectives
---
Produktdetails
VIII, 286 Seiten, mit 92 Abbildungen,
15,8 x 23,5 cm
, kartoniert
Lieferzeit
Sofort lieferbar
Zahlungsweise
Rechnung, Kreditkarte (VISA, MasterCard, American Express), SEPA-Lastschrift
Externe Links
ISBN
978-3-503-16768-5
Erscheinungstermin
07. Dezember 2016
Programmbereich
Reihe / Gesamtwerk
Downloads
Titel empfehlen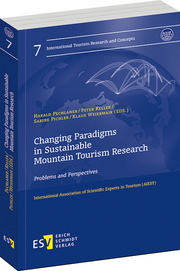 ---
* inkl. USt.,

ohne Versandkosten
Titel in den Warenkorb
eBook:

EUR (D) 49,98**
---
PDF-Datei
Voraussetzungen: Internetzugang, Web-Browser, Adobe Reader
** inkl. USt.
Titel als eBook kaufen
Environmental, social and economic sustainability
is an important topic of today's decision makers in tourism. This book, edited by Harald Pechlaner, Peter Keller, Sabine Pichler and Klaus Weiermair, provides profound insights into current concepts and challenges of sustainable tourism development – with
particular regard to mountain destinations
worldwide.
Leading experts and tourism professionals analyze
dimensions of sustainability-oriented destination management and destination governance,
strategies and tasks in sustainable tourism development, from demand- and supply-related perspectives,
practical approaches and market viabilities towards sustainable mountain tourism.
The
case studies
presented display the variety of a multifaceted, international field of research and practice. Examples of
innovative concepts
include mountain regions from all over the globe.
---
Edited by Prof. Dr.
Harald Pechlaner
, Prof. Dr.
Peter Keller
,
Sabine Pichler
and Prof. Dr.
Klaus Weiermair
With Contributions by Andrey Abadzhiev, Dr.
A. Suresh Babu
, Prof. Dr.
S. C. Bagri
, Prof. Dr.
Riccardo Beltramo
, Dr.
Silvia Conte
, Prof. Dr.
Stefano Duglio
, Dr.
Marianna Elmi
, Dr.
Arvid Flagestad
, Prof. Dr.
Matthias Fuchs
, Dr. Tomáš Gajdošík, Dr.
Katarína Holúbeková
, Prof. Dr.
Christine A. Hope
, Prof. Dr.
Wolfram Höpken
, Dr.
Katia Iankova
, Dr.
Elisa Innerhofer
, Prof. Dr.
Stanislav Ivanov
, Dr.
Maya Ivanova
, Dr.
Nino Jerenashvili
, Prof. Dr.
Peter Keller
, Prof. Dr.
Jana Kucerova
, Prof. Dr.
Niko Kvaratskhelia
,
Lena-Marie Lun
, Dr.
Tomáš Makovník
, Dr.
Mara Manente
, Dr.
Vanda Maráková
, Prof. Dr.
Umberto Martini
, Dr.
Sabrina Meneghello
, Prof. Dr.
Harald Pechlaner
, Prof. Dr.
Mike Peters
, Dr.
Bo Svensson
, Prof. Dr.
Klaus Weiermair
, Prof. Dr.
Peter W. Williams
Als Nettopreise angegebene Preise verstehen sich zuzüglich Umsatzsteuer. Alle Nettopreise, also auch die Monatspreise, wurden aus den Bruttopreisen errechnet. Daher kann es wegen Rundungsungenauigkeiten bei einer Rückrechnung zu Abweichungen um wenige Cent kommen.
---


© 2019 Erich Schmidt Verlag GmbH & Co. KG, Genthiner Straße 30 G, 10785 Berlin
Telefon (030) 25 00 85-0 | Telefax (030) 25 00 85-305 | E-Mail: ESV@ESVmedien.de