Buch
Tourism Development after the Crises
Global Imbalances – Poverty Alleviation
---
Produktdetails
XII, 248 Seiten, mit zahlreichen Abbildungen und Tabellen,
15,8 x 23,5 cm
, kartoniert
Lieferzeit
Sofort lieferbar
Zahlungsweise
Rechnung, Kreditkarte (VISA, MasterCard, American Express), SEPA-Lastschrift
Externe Links
ISBN
978-3-503-13002-3
Erscheinungstermin
11. April 2011
Programmbereich
Reihe / Gesamtwerk
Downloads
Titel empfehlen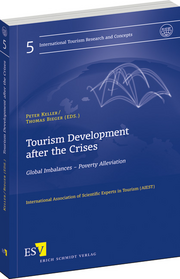 ---
* inkl. USt.,

ohne Versandkosten
Titel in den Warenkorb
eBook:

EUR (D) 39,98**
---
PDF-Datei
Voraussetzungen: Internetzugang, Web-Browser, Adobe Reader
** inkl. USt.
Titel als eBook kaufen
Global imbalances and crises which occurred more frequently and at shorter intervals made international tourism demand more volatile. This book, edited by Peter Keller and Thomas Bieger, provides a unique analysis of the recent financial crisis on world tourism and particularly the development models which contribute reduce poverty.
The volume is based on the knowledge of a network of more than 300 researchers and includes experiences from Europe, Africa and Asia. It focuses on the latest economic crises as a framework for analyses and as a real life case study.
Main parts of the book cover the following issues:
Impact of the global economic imbalances and crises on tourism
Lessons to be learned for the future of tourism in poor regions
Strategic development approaches for tourism destinations
A substantial contribution for the impact of tourism development in time of global imbalances.
---
Edited by Prof. Dr.
Peter Keller
and Prof. Dr.
Thomas Bieger
With Contributions by Prof. Dr.
Thomas Bieger
, Prof. Dr.
Agyapong B. Gyekye
, Prof. Dr.
Frank M. Go
, Dr.
Michele Gotti
, Prof. Dr.
Hubert Job
,
Colin Johnson
, Ph.D, Prof. Dr.
Peter Keller
, Dr.
Shinichi Kurihara
, Prof. Dr.
Andrea Macchiavelli
,
Saskia Marx
, Prof. Dr.
Tanja Mihalič
, Ms
Tondani Nethengwe
, Dr.
Yasuo Ohe
, Prof.
Emmanuel K. Oseifuah
, Dipl.-Geogr.
Ferdinand Paesler
, Prof. Dr.
Harald Pechlaner
,
Christopher Reuter
,
Subroto Roy
, Dr.
Miriam Scaglione
, Dr.
Shinpei Shimoura
, Prof. Dr.
Egon Smeral
, Prof. Dr.
Kizhakanveatil Bhaskaran Pillai Subhash
, Dr.
Mariapina Trunfio
,
Lindsay William Turner
, Prof. Dr.
Norbert Vanhove
, Prof. Dr.
Klaus Weiermair
,
Stephen F. Witt
Als Nettopreise angegebene Preise verstehen sich zuzüglich Umsatzsteuer. Alle Nettopreise, also auch die Monatspreise, wurden aus den Bruttopreisen errechnet. Daher kann es wegen Rundungsungenauigkeiten bei einer Rückrechnung zu Abweichungen um wenige Cent kommen.
---


© 2019 Erich Schmidt Verlag GmbH & Co. KG, Genthiner Straße 30 G, 10785 Berlin
Telefon (030) 25 00 85-0 | Telefax (030) 25 00 85-305 | E-Mail: ESV@ESVmedien.de