Buch
Knowledge Management and Narratives
Organizational Effectiveness Through Storytelling
---
Produktdetails
VIII, 317 Seiten,
15,8 x 23,5 cm
, kartoniert
Lieferzeit
Sofort lieferbar
Zahlungsweise
Rechnung, Kreditkarte (VISA, MasterCard, American Express), SEPA-Lastschrift
Externe Links
ISBN
978-3-503-09029-7
Erscheinungstermin
28. September 2005
Programmbereich
Downloads
Titel empfehlen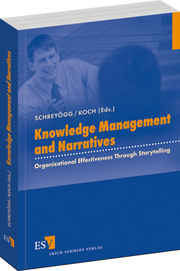 ---
* inkl. USt.,

ohne Versandkosten
Titel in den Warenkorb
For many organizations knowledge is one of the most important keys to success. Knowledge management often plays a crucial role in organizational effectiveness. In particular stories and the narrative mode of communication have come to figure prominently in knowledge management. They have long been neglected, but are now acknowledged as a special type of organizational knowledge that complements codified knowledge and analytical thought in modern organizations. Thus narratives are viewed as a most promising feature in modern knowledge management. But how can they be handled through the process of knowledge management? How do they contribute to organizational success? The volume of Georg Schreyögg and Jochen Koch offers many important perspectives on these issues: - It reveals insights into the salient role of narratives in up-to-date knowledge management. - It provides methods and tools for making use of narratives in organizations. - And it presents perspectives on the relationship between organizational knowledge, narratives and effectiveness. With the volume users will obtain a deeper understanding of organizational knowledge management. Well-known international experts explain storytelling and the narrative mode and their implications. The papers are actual and of high quality. Therefore the volume is centrally important for success in handling knowledge for organizational effectiveness.
---
Herausgegeben von
Georg Schreyögg
und
Jochen Koch
mit Beiträgen von
Jean Caussanel
,
Con Connell
,
Stephen Denning
,
Willemijn Dicke
,
Rik van Duifhuizen
,
Christine Erlach
,
Daniel Geiger
,
Edeltraud Hanappi-Egger
,
Roswitha Hofmann
,
Jonathan H. Klein
,
Jochen Koch
,
Edgar Meyer
,
Piers Myers
,
Gary R. Oliver
,
Martin Parker
,
Georg Schreyögg
,
David J. Snowden
,
Eddie Soulier
,
Karin Thier
und
Barbara Torell
Als Nettopreise angegebene Preise verstehen sich zuzüglich Umsatzsteuer. Alle Nettopreise, also auch die Monatspreise, wurden aus den Bruttopreisen errechnet. Daher kann es wegen Rundungsungenauigkeiten bei einer Rückrechnung zu Abweichungen um wenige Cent kommen.
---


© 2019 Erich Schmidt Verlag GmbH & Co. KG, Genthiner Straße 30 G, 10785 Berlin
Telefon (030) 25 00 85-0 | Telefax (030) 25 00 85-305 | E-Mail: ESV@ESVmedien.de