Buch
International Sports Marketing
Principles and Perspectives
---
Produktdetails
VIII, 400 Seiten,
15,8 x 23,5 cm
, kartoniert
Lieferzeit
Sofort lieferbar
Zahlungsweise
Rechnung, Kreditkarte (VISA, MasterCard, American Express), SEPA-Lastschrift
Externe Links
ISBN
978-3-503-14141-8
Erscheinungstermin
17. Januar 2014
Programmbereich
Reihe / Gesamtwerk
Downloads
Titel empfehlen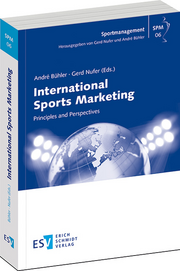 ---
* inkl. USt.,

ohne Versandkosten
Titel in den Warenkorb
eBook:

EUR (D) 39,98**
---
PDF-Datei
Voraussetzungen: Internetzugang, Web-Browser, Adobe Reader
** inkl. USt.
Titel als eBook kaufen
Marketing of and with sports
is as international as sports itself. While this impression may be intuitively evident during global events such as the Olympic Games, internationalisation also takes place in the daily routines of our increasingly globalised domestic leagues and sports events.
In this book, edited by André Bühler and Gerd Nufer, leading sports economists and marketing experts from around the world provide detailed insights into current issues and future challenges of
sports marketing from an international perspective
. An excellent survey on:
Principles of International Sports Marketing – notions, models and concepts
Sports Marketing Around the World, based on international research from all five continents
The Future of International Sports Marketing and what corporate management can learn from sports
An inspiring reading and an essential book to gain a better understanding of
today's status quo and developmental stages of sports marketing
in the various regions of this world.
---
Edited by Prof. Dr.
André Bühler
and Prof. Dr.
Gerd Nufer
With contributions by Prof. Dr.
André Bühler
, Prof. Dr.
Gonzalo A. Bravo
, Prof. Dr.
Simon Chadwick
, Prof. Dr. Dae Ryun Chang, Prof. Dr.
Frank Daumann
,
Lev Esipovich
, Robin Heinze, Prof. Dr. Dennis Floyd Jones,
Brendon Knott
, David
Chungyeol Lee
, Prof. Dr.
Mark R. Lyberger
, Prof. Dr.
Gerd Nufer
, Bárbara Schausteck de Almeida, Prof. Dr.
Matthew D. Shank
, Dr. Paschal W. Soita, Dr. Ilia Solntsev, Prof. Dr.
Constantino Stavros
, Dr.
Mark Stewart
, Prof. Dr.
Kamilla Swart
, Prof. Dr.
Andrzej Sznajder
Als Nettopreise angegebene Preise verstehen sich zuzüglich Umsatzsteuer. Alle Nettopreise, also auch die Monatspreise, wurden aus den Bruttopreisen errechnet. Daher kann es wegen Rundungsungenauigkeiten bei einer Rückrechnung zu Abweichungen um wenige Cent kommen.
---


© 2019 Erich Schmidt Verlag GmbH & Co. KG, Genthiner Straße 30 G, 10785 Berlin
Telefon (030) 25 00 85-0 | Telefax (030) 25 00 85-305 | E-Mail: ESV@ESVmedien.de