Buch
English morphology and word-formation
An introduction
---
Produktdetails
273 Seiten,
14,4 x 21 cm
, kartoniert
Lieferzeit
Sofort lieferbar
Zahlungsweise
Rechnung, Kreditkarte (VISA, MasterCard, American Express), SEPA-Lastschrift
Externe Links
ISBN
978-3-503-17012-8
Auflage
3., neu bearbeitete und erweiterte Auflage 2016
Erscheinungstermin
31. August 2016
Programmbereich
Reihe / Gesamtwerk
Downloads
Auflagen
Titel empfehlen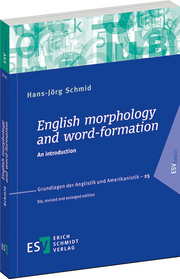 ---
* inkl. USt.,

ohne Versandkosten
Titel in den Warenkorb
---
Optimal vorbereitet im Studium
Serving as an introduction to English morphology and word-formation, this book also tries to advance the state-of-the-art in this field. The author takes his readers gently through the basic notions and discusses problematic areas. All chapters are approached systematically from three different angles focusing on structural, cognitive and sociopragmatic aspects of the field. In this way, new perspectives are opened particularly on the development and establishment of new complex words, on the cognitive functions of word-formation patterns and on the field of conversion. Students of English and linguistics will be able to use this book as an introduction and for preparing exams, term papers and final theses. The large number of examples is taken from a corpus of authentic language, which also serves as a basis for frequency counts of morphological features and elements in different text-types. This revised and enlarged third edition features a new chapter dealing with theoretical models of word-formation.
"Schmid's approach is in many ways a fresh and original one. The systematic use of a corpus is a very welcome innovation, ensuring that the book is well grounded in up-to-date authentic materials."
Geoffrey Leech, Emeritus Professor of English Linguistics, Lancaster University.
"Excellent! A reliable, comprehensive account with numerous 'real language' examples from corpora. Just what students need!"
Jean Aitchison, Emeritus Rupert Murdoch Professor of Language and Communication, University of Oxford.
Als Nettopreise angegebene Preise verstehen sich zuzüglich Umsatzsteuer. Alle Nettopreise, also auch die Monatspreise, wurden aus den Bruttopreisen errechnet. Daher kann es wegen Rundungsungenauigkeiten bei einer Rückrechnung zu Abweichungen um wenige Cent kommen.
---


© 2019 Erich Schmidt Verlag GmbH & Co. KG, Genthiner Straße 30 G, 10785 Berlin
Telefon (030) 25 00 85-0 | Telefax (030) 25 00 85-305 | E-Mail: ESV@ESVmedien.de