---
Produktdetails
X, 157 Seiten, mit zahlreichen Abbildungen und Tabellen,
15,8 x 23,5 cm
, kartoniert
ISBN
978-3-503-12066-6
Erscheinungstermin
voraussichtlich im Februar 2010
Programmbereich
Reihe / Gesamtwerk
Downloads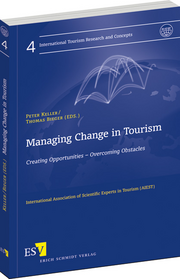 Dieses Produkt ist leider nicht mehr lieferbar.
This book, edited by Peter Keller and Thomas Bieger, provides you an unique analytical framework for the management of change in tourism. It is based on the experience of a network of more than 300 researchers from around the world. Case studies and empirical research results deepen the analyses in the three dimensions of: drivers of change, change on destination level, change on company level. By this, the book is a substantial basis for studying change in tourism by scholars and practitioners as well as a resource for seminars and courses in the field.
---
Edited by Prof. Dr.
Peter Keller
and Prof. Dr.
Thomas Bieger
With contributions by
Monika Bachinger
, Dr.
Pietro Beritelli
, Prof. Dr.
Thomas Bieger
,
Federica Buffa
,
Maria Della Lucia
,
Mariangela Franch
,
Sanna Hakulinen
,
Colin Johnson
, Ph.D., Prof. Dr.
Peter Keller
,
Raija Komppula
, Prof.
Arja Lemetyinen
,
Umberto Martini
, Dr.
Yasuo Ohe
, Prof.
Paola Paniccia
, Prof. Dr.
Harald Pechlaner
,
Stephan Reinhold
,
Christoph Reuter
,
Saila Saraniemi
, Prof. Dr.
Miriam Scaglione
, Prof.
Jean-Philippe Trabichet
,
Marco Valeri
, Ph.D.
Als Nettopreise angegebene Preise verstehen sich zuzüglich Umsatzsteuer. Alle Nettopreise, also auch die Monatspreise, wurden aus den Bruttopreisen errechnet. Daher kann es wegen Rundungsungenauigkeiten bei einer Rückrechnung zu Abweichungen um wenige Cent kommen.
---


© 2018 Erich Schmidt Verlag GmbH & Co. KG, Genthiner Straße 30 G, 10785 Berlin
Telefon (030) 25 00 85-0 | Telefax (030) 25 00 85-305 | E-Mail: ESV@ESVmedien.de