Buch
The Role of Internal Audit in Corporate Governance in Europe
Current Status, Necessary Improvements, Future Tasks
---
Produktdetails
139 Seiten,
15,8 x 23,5 cm
, kartoniert
Lieferzeit
Sofort lieferbar
Zahlungsweise
Rechnung, Kreditkarte (VISA, MasterCard, American Express), SEPA-Lastschrift
Externe Links
ISBN
978-3-503-10056-9
Erscheinungstermin
12. März 2007
Programmbereich
Downloads
Titel empfehlen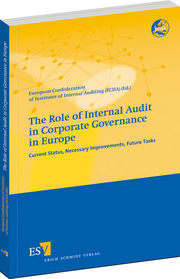 ---
* inkl. USt.,

ohne Versandkosten
Titel in den Warenkorb
eBook:

EUR (D) 24,99**
---
PDF-Datei
Voraussetzungen: Internetzugang, Web-Browser, Adobe Reader
** inkl. USt.
Titel als eBook kaufen
Based on a survey between all national Institutes of Internal Auditing in Europe this book shows a widespread picture of European Corporate Governance activities and Internal Audit: - Specific questions regarding the current involvement of Internal Audit in Corporate Governance aspects; - the State of the art of Internal Audit: position, scope and quality management; - Focal points for improving the role of Internal Audit in Corporate Governance in Europe. All insights of the book are concentrated on European companies and offer European solutions for Internal Auditing. They are empirically founded and written in a clear and direct way for practical use. This is the first work for the European profession of Internal Audit that formulates eight focal points for improving the role of Internal Audit in Corporate Governance in Europe. The book shows how Internal Audit can fundamentally strengthen good Corporate Governance.
---
Edited by the European Confederation of Institutes of Internal Auditing (ECIIA)
Edition under the special guidance of
Bernd Schartmann
With the support of the Deutsches Institut für Interne Revision e.V. (IIA Germany)
Als Nettopreise angegebene Preise verstehen sich zuzüglich Umsatzsteuer. Alle Nettopreise, also auch die Monatspreise, wurden aus den Bruttopreisen errechnet. Daher kann es wegen Rundungsungenauigkeiten bei einer Rückrechnung zu Abweichungen um wenige Cent kommen.
---


© 2019 Erich Schmidt Verlag GmbH & Co. KG, Genthiner Straße 30 G, 10785 Berlin
Telefon (030) 25 00 85-0 | Telefax (030) 25 00 85-305 | E-Mail: ESV@ESVmedien.de