Buch
Lean Six Sigma in IT Management
Enhancing Quality and Productivity
---
Produktdetails
172 Seiten, mit zahlreichen Abbildungen,
15,8 x 23,5 cm
, kartoniert
Lieferzeit
Sofort lieferbar
Zahlungsweise
Rechnung, Kreditkarte (VISA, MasterCard, American Express), SEPA-Lastschrift
Externe Links
ISBN
978-3-503-14184-5
Erscheinungstermin
06. November 2012
Programmbereich
Downloads
Titel empfehlen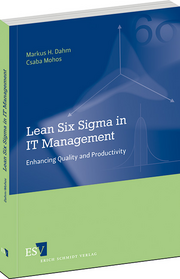 ---
* inkl. USt.,

ohne Versandkosten
Titel in den Warenkorb
eBook:

EUR (D) 29,99**
---
PDF-Datei
Voraussetzungen: Internetzugang, Web-Browser, Adobe Reader
** inkl. USt.
Titel als eBook kaufen
Today's businesses heavily rely on IT services to run their processes efficiently. This means that IT departments and IT service providers are being forced to embrace modern quality methods in an effort to remain competitive in increasingly complex markets. While promising concepts such as Lean Six Sigma have achieved great success in manufacturing environments, its application to IT services can be a challenging task.
In this book,
Markus H. Dahm
and
Csaba Mohos
provide detailed insights on how to address these challenges by offering a hands-on approach to:
Core concepts of Lean Management, Six Sigma and Lean Six Sigma
Possibilities for integrating Lean Six Sigma in companies' organizational structures
Key success factors of a Lean Six Sigma implementation
Applying Lean Six Sigma to ITIL and its "Continual Service Improvement" component
Featuring case studies, experiences and suggestions from a variety of European companies which use Lean Six Sigma in their IT organizations, this book is
a well-founded and valuable companion for practical use
!
Als Nettopreise angegebene Preise verstehen sich zuzüglich Umsatzsteuer. Alle Nettopreise, also auch die Monatspreise, wurden aus den Bruttopreisen errechnet. Daher kann es wegen Rundungsungenauigkeiten bei einer Rückrechnung zu Abweichungen um wenige Cent kommen.
---


© 2019 Erich Schmidt Verlag GmbH & Co. KG, Genthiner Straße 30 G, 10785 Berlin
Telefon (030) 25 00 85-0 | Telefax (030) 25 00 85-305 | E-Mail: ESV@ESVmedien.de