Buch
Variation and Change in English
An Introduction
---
Produktdetails
163 Seiten,
14,4 x 21 cm
, kartoniert
Lieferzeit
Sofort lieferbar
Zahlungsweise
Rechnung, Kreditkarte (VISA, MasterCard, American Express), SEPA-Lastschrift
Externe Links
ISBN
978-3-503-15507-1
Erscheinungstermin
24. März 2014
Programmbereich
Reihe / Gesamtwerk
Downloads
Titel empfehlen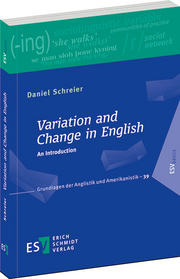 ---
* inkl. USt.,

ohne Versandkosten
Titel in den Warenkorb
---
Optimal vorbereitet im Studium
This book introduces critical concepts of English sociolinguistics, with particular focus on language variation and change. It provides hands-on examples throughout the history of English, gives an account of sociolinguistic thought since its inception in the early 1960s and sketches major developments and theoretical advances. One of its major concerns is on methodology, since collecting, handling and evaluating data is of utmost importance for the analysis of socially-sensitive language variation. Another main focus is the causation of language change. The external dimension of these processes, particularly the impact of languages and dialects in contact conditions (such as newly established colonies), is looked at in detail and illustrated with examples and texts. The book thus also provides an introduction to the emergence of new varieties (pidgins or creoles) that arise as a result of contact-induced language change, before bringing the various approaches together in a theoretical framework.
Als Nettopreise angegebene Preise verstehen sich zuzüglich Umsatzsteuer. Alle Nettopreise, also auch die Monatspreise, wurden aus den Bruttopreisen errechnet. Daher kann es wegen Rundungsungenauigkeiten bei einer Rückrechnung zu Abweichungen um wenige Cent kommen.
---


© 2019 Erich Schmidt Verlag GmbH & Co. KG, Genthiner Straße 30 G, 10785 Berlin
Telefon (030) 25 00 85-0 | Telefax (030) 25 00 85-305 | E-Mail: ESV@ESVmedien.de