Buch
Introduction to Cultural Studies
Topics, Concepts, Issues
---
Produktdetails
248 Seiten,
14,4 x 21 cm
, kartoniert
Lieferzeit
Sofort lieferbar
Zahlungsweise
Rechnung, Kreditkarte (VISA, MasterCard, American Express), SEPA-Lastschrift
Externe Links
ISBN
978-3-503-18768-3
Auflage
2., durchgesehene Auflage 2019
Erscheinungstermin
05. Juni 2019
Programmbereich
Reihe / Gesamtwerk
Downloads
Auflagen
Titel empfehlen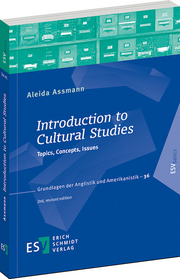 ---
* inkl. USt.,

ohne Versandkosten
Titel in den Warenkorb
---
Optimal vorbereitet im Studium
Divided into seven themed chapters: signs, media, body, time, space, memory and identity, this book aims to provide a fresh approach to complex theoretical and historical questions. Sparking the reader's interest in literature from different genres and periods, this volume not only provides a useful introduction, it is an important study tool which supports the reader's own endeavours to get to grips with the relationship between reading and major key questions of culture.
"This book by Aleida Assmann consistently surpasses a narrow definition of 'English Studies' and opens up new, fresh perspectives that enable fascinating views on current questions. The theme-centred, coherent and well written Introduction to Cultural Studies can be considered outstanding in every respect: it will take a permanent place among the introductions to English Literature and Cultural Studies." (Till Kinzel)
Als Nettopreise angegebene Preise verstehen sich zuzüglich Umsatzsteuer. Alle Nettopreise, also auch die Monatspreise, wurden aus den Bruttopreisen errechnet. Daher kann es wegen Rundungsungenauigkeiten bei einer Rückrechnung zu Abweichungen um wenige Cent kommen.
---


© 2019 Erich Schmidt Verlag GmbH & Co. KG, Genthiner Straße 30 G, 10785 Berlin
Telefon (030) 25 00 85-0 | Telefax (030) 25 00 85-305 | E-Mail: ESV@ESVmedien.de