Buch
Tourism and Sustainable Development
Reconsidering a Concept of Vague Policies
---
Produktdetails
205 Seiten,
15,8 x 23,5 cm
, kartoniert
Lieferzeit
Sofort lieferbar
Zahlungsweise
Rechnung, Kreditkarte (VISA, MasterCard, American Express), SEPA-Lastschrift
Externe Links
ISBN
978-3-503-13041-2
Erscheinungstermin
20. April 2011
Programmbereich
Downloads
Titel empfehlen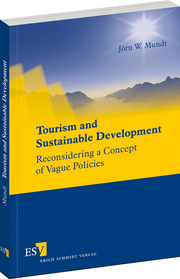 ---
* inkl. USt.,

ohne Versandkosten
Titel in den Warenkorb
eBook:

EUR (D) 39,98**
---
PDF-Datei
Voraussetzungen: Internetzugang, Web-Browser, Adobe Reader
** inkl. USt.
Titel als eBook kaufen
Sustainability, Development and Tourism: Untangling a Vague Concept
Sustainability is a central term in today`s political rhetoric. At the same time, sustainable development is one of the notions which mainly base on an intuitive public understanding and mark ideas almost nobody would deny. Thus, even in scientific discourse and particularly in tourism the term 'sustainability' is often being used without scrutiny.
This volume by Jörn W. Mundt contributes to a deeper understanding of the concept of sustainability by
providing a closer look at the original definition and
reviewing its conceptual history which helps to untangle the terminological confusion.
Finally, the book demonstrates that 'sustainable tourism' cannot be a political objective in its own right and is only achievable within the context of an overall sustainable economy.
An interdisciplinary and overarching critique of the modern concept of sustainability and its application to tourism!
Reviews:
"Mundt provides a fascinating, powerfully argued and extremely readable account which (...) convincingly challenges current thinking about sustainable development."
Richard Sharpley, University of Central Lancashire, UK in: Journal of Policy Research in Tourism, Leisure and Events, 3/2011
"Tourism academics have for many years ignored the context of the theories and approaches of tourism within other discipline areas; this book has provided this well."
Stephen Wearing, School of Leisure, Sport and Tourism, University of Technology, Sydney, Australia in: Tourism Geographies, 14:2/2012
Als Nettopreise angegebene Preise verstehen sich zuzüglich Umsatzsteuer. Alle Nettopreise, also auch die Monatspreise, wurden aus den Bruttopreisen errechnet. Daher kann es wegen Rundungsungenauigkeiten bei einer Rückrechnung zu Abweichungen um wenige Cent kommen.
---


© 2019 Erich Schmidt Verlag GmbH & Co. KG, Genthiner Straße 30 G, 10785 Berlin
Telefon (030) 25 00 85-0 | Telefax (030) 25 00 85-305 | E-Mail: ESV@ESVmedien.de